Fall In Love With Your House All Over Again
With our specialty house washing packages we can give your house a makeover in just a few hours. With our low pressure soft washing system, you can have the peace of mind knowing that your house is properly maintained. We can not only boost your homes curb appeal but also its property value. Check out our sample packages below: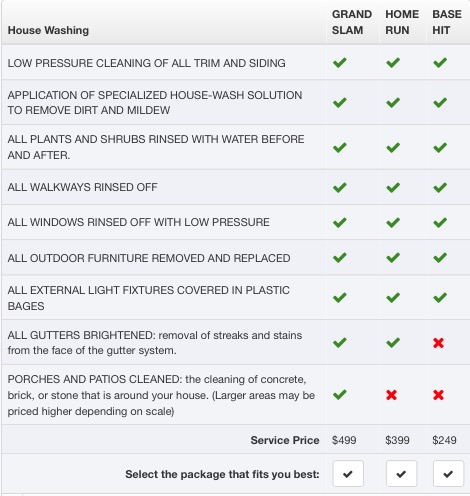 Our house washing solution targets the most-needed aspects of your exterior care. With our professional technicians on the job, we provide:
Stain removal
Mildew, algae, and mold mitigation
Dirt and dust removal
A positive first impression starts with every individual inch of your exterior. With our team, curb appeal and quality are all part of the package deal.
Our Soft Wash Service
With our low pressure soft washing method we will use safely remove the mildew from the siding, trim and gutters with our secret house washing formula without damaging your siding or harming your home's vegetation.
The Advanced Power of Soft Washing
Pressure washing should never be used on a home exterior. Instead, we tap into the advanced power of soft washing. Using this approach, we ease up on the pressure and instead amplify use of cleaners and specialized cleaning techniques. This method is the best way to secure:
Safely Restore your home without damaging siding
Safely Remove mildew without harming plant life
Your home deserves curb appeal – but better yet, it deserves curb appeal that will last. Get the best of both worlds with Abide and get an e-quote and give your house the spa treatment today!
Our Work